Are you facing trouble activating your eSIM on Mint mobile or do you have a QR code which is also not working?
The trouble with eSIM or QR code on Mint mobile can be frustrating and can make you impatience to use your device.
This article will discuss the reasons for Mint mobile eSIM activation or QR code not working and how you can fix it.
Why Is Mint Mobile eSIM Activation Or QR Code Not Working?
If Mint mobile eSIM activation or QR code is not working on your device then there are multiple reasons for it which are mentioned below.
Your phone does not support eSIM.
You are out of the coverage area of Mint Mobile.
If your phone is locked then it will not let you use Mint Mobile.
The QR code that you are using is expired or no longer available for activation.
Your phone is not connected to Wi-Fi.
How To Fix Mint Mobile eSIM Activation Or QR Code Not Working?
To fix Mint Mobile eSIM activation or QR code not working issue you can follow the steps mentioned below.
1. Check Your Phone For ESIM Compatibility
Ensure that your phone is the latest model that is eSIM-compatible. As eSIM is a recent technology not all phones are compatible or support eSIM.
Apple phones that are compatible with eSIM are iPhone XR, any iPhone 11, 12, 13 or 14 and iPhone SE.
Google Pixel devices are also compatible with eSIM and can use Mint Mobile service.
If your phone model is other than the one mentioned here then you can check your phone's compatibility on the Mint Mobile website.
2. Check The Coverage Area Of Mint Mobile
Although the Mint Mobile network is available in most areas of the United States it is still recommended to check your area for its coverage.
If you have an eSIM but the Mint Mobile service is not available in your area then it will not work and not get activated.
You can check the coverage map of Mint Mobile to see if it offers service in your area.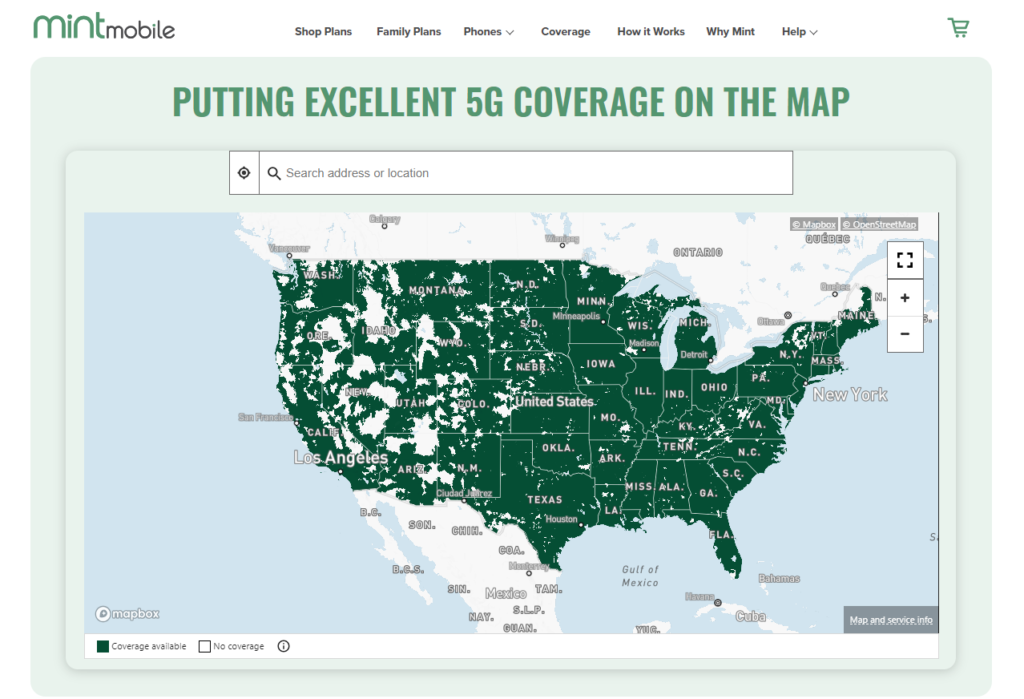 Even if the service is available in your area there are factors beyond your control that can interrupt the service like terrain, building structures and weather conditions.
3. Unlock Your Phone
Some iPhones are carrier locked when you buy them which means that you cannot switch the carrier unless it is unlocked.
So, switching to Mint Mobile with the locked iPhone will not let eSIM or QR code work.
You can check if your iPhone is locked or not by following the steps mentioned below but it works only on iPhone 14 or later.
Tap on "Settings" on your iPhone.
Go to "General" and then tap on "About".
Scroll down to see "Carrier Lock" and if you see "No SIMS restriction" then it is unlocked. If you don't then it is locked to a specific carrier.
If you have a locked phone then you can get it unlocked by calling your carrier service provider and putting in a request to unlock it.
Only the carrier can help you unlock the phone and it can take a few days to process and complete your request.
Also, certain carrier requires some number of days to pass after you purchase the device to unlock the phone.
Some third-party apps can also help you unlock the phone by charging fees but this can be risky so be careful and think before using such apps.
4. Get A New QR Code
In most cases, the QR code provided to you can only be used once for security reasons so that your eSIM profile is not duplicated.
If you cancel the eSIM activation process in the middle then the QR code will not work again or will not be usable.
You can request a new QR code from Mint Mobile to activate eSIM. But the issue of code may depend on certain situations or their terms of service.
Also, ensure that you scan the QR code properly. For iPhone scan the code using the camera and for Android go to settings to access the QR code scanner.
If you have scanned it properly but the screen freezes then just close the window and scan it again.
5. Check Your Phone's Internet Connectivity
For eSIM activation, you need to have Wi-Fi connected to ensure that you get a high-speed and stable internet connection.
If the Wi-fi is not working properly then you can turn it off for some time and then turn it on again.
You can also switch on airplane mode and then again switch it off to reset the internet connection.
If it still does not work then consider switching off the phone completely and after some time restart it. This will fix any temporary network issue on your phone.
6. Contact Mint Mobile Support
If you have tried all the steps but the eSIM activation or QR code is still not working then you can contact Mint Mobile customer care by calling (800) 683-7392 which is available seven days a week from 5.00 am to 7.00 pm. You can also chat with them which is available 24/7.