Have you come across an error message saying "Your account has been disabled" on your Textnow account recently? Are you unable to operate, send, or receive messages, and make calls through the TextNow app?
TextNow is a mobile application that provides free texting (SMS) and calling (VoIP) services using an internet connection. Users can send and receive multimedia messages, including pictures and videos.
The app allows users to send and receive text messages, make phone calls, and even receive voicemail messages without requiring a traditional cellular phone plan.
It essentially turns your smartphone or tablet into a phone that can operate over Wi-Fi or a data connection. Users can send and receive unlimited text messages to and from other TextNow users for free.
If you coming across an error message saying "Your account has been disabled", this article will help you understand why your TextNow account may have been disabled and what steps you can take to get your TextNow account back.
Why Would Your TextNow Account Be Disabled?
When an account is found to be in violation, TextNow may take various actions, including disabling or terminating the account, to enforce its policies and ensure the integrity of its platform.
The error message "Your account has been disabled" on TextNow indicates that the account in question has engaged in activities or behaviors that are in violation of TextNow's terms of usage policies.
Common reasons for an account to be flagged or disabled for violating TextNow's Terms of Use may include:
Harassment or Abuse: Sending harassing or abusive messages, calls, or content to other users.
Spam and Unsolicited Messages: Sending spam, phishing attempts, or unsolicited messages to TextNow users.
Misuse of Services: Engaging in activities that misuse or abuse TextNow's services, such as using the platform for illegal or fraudulent purposes.
Violence or Threats: Making threats of violence or using the platform to promote violent or harmful activities.
Impersonation: Pretending to be someone else or impersonating another individual or entity.
Violating Privacy: Sharing personal information without consent or violating the privacy of other users.
Copyright Infringement: Sharing copyrighted material without proper authorization.
Use of Prohibited Content: Sharing or distributing prohibited content, such as explicit or adult material, which may be against TextNow's content guidelines.
When an account is suspended or terminated for violating the Terms of Use, TextNow will notify the account holder and provide information about the specific violation if applicable.
Account holders may have the opportunity to appeal the decision or take steps to rectify the situation, depending on the nature of the violation.
If you use the TextNow app ensure that you understand the terms and policies of the service they are using to ensure compliance.
Violating these terms can result in your account being disabled or other actions taken by the platform to maintain a safe and respectful environment for all users.
How To Get Disabled TextNow Account Back?
The best way to get your TextNow account enabled again is to submit an appeal and contact the TextNow chat support. TextNow agents are available from 10 AM to 5:30 PM Eastern time.
Submit An Appeal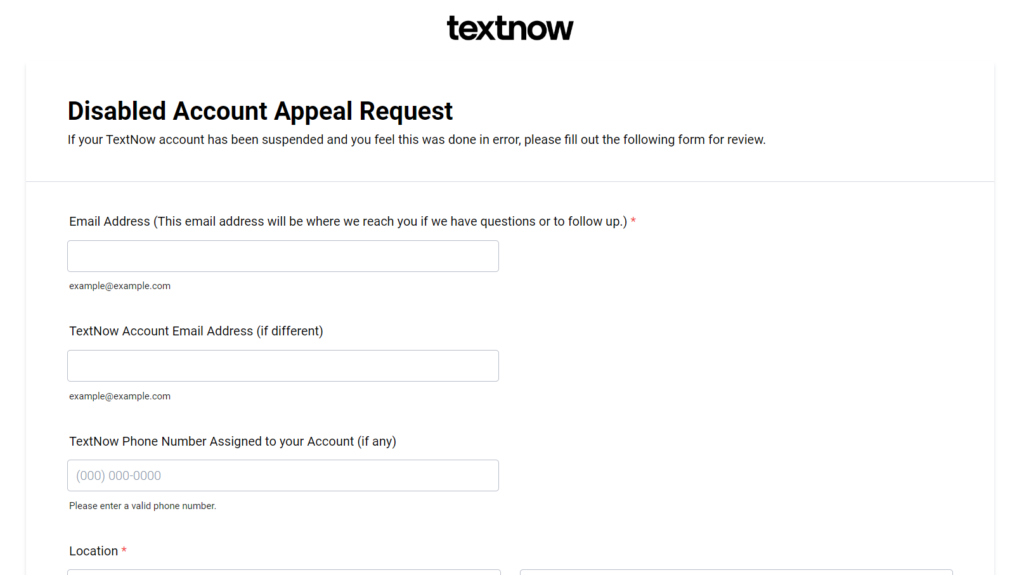 If you believe your TextNow account was disabled or suspended wrongfully due to an error you did not cause, submit an appeal to get your account reviewed.
If the TextNow team approves your appeal, your TextNow account can be enabled again.
Contact The TextNow App Customer Support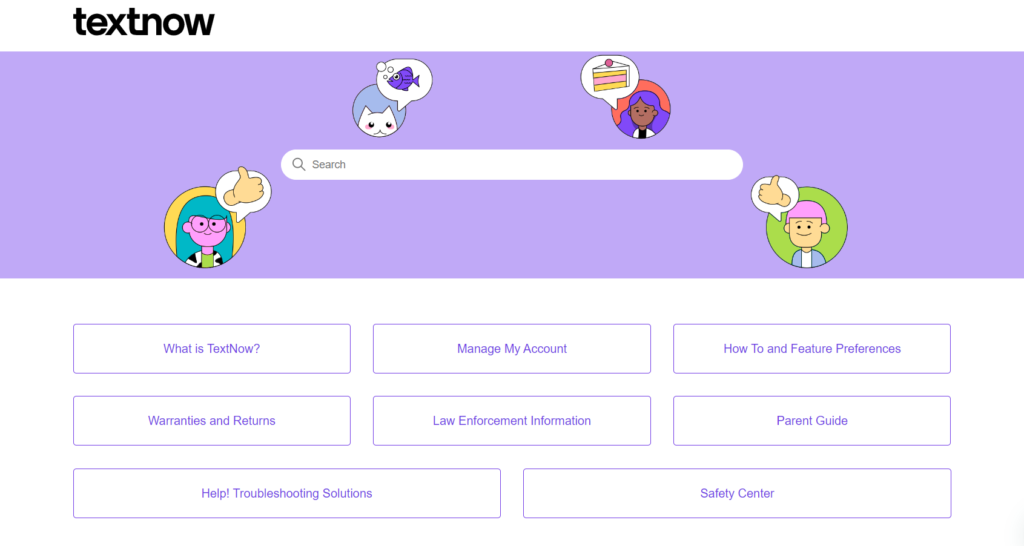 To fix the issue of the TextNow account being disabled, contact the TextNow customer support team to resolve your issues. Chat with the TextNow bot. The TextNow team is available from 10 AM to 5:30 PM.
There might be some other underlying issues due to which you might be flagged or have your account disabled due to which you are unable to make calls through the TextNow app.
You can also submit a request to the TextNow support team. Enter details such as your email address, subject, description, etc. Describe your problems in a detailed manner.