If you're trying to access the Ticketmaster using website or app and experiencing the Pardon the Interruption error, it might doesn't allow you to access the services.
Ticketmaster Pardon the Interruption error can occur because of network connection issue, problem with browser cache and cookies, or might be due to any third-party browser plugins.
Reasons for Ticketmaster Pardon the Interruption Error
Browsing Speed: If the browsing speed from your side is too fast, the website may think it is a bot and block your access. so you need to try to reduce the browsing speed to a normal human level.
Javascript Disabled: Ticketmaster heavily relies on Javascript, and if it is disabled, the website may not work correctly. Make sure Javascript is enabled in the browser settings.
Third-party Browser Plugins: Some browser plugins can interfere with the website's functionality. Disable any third-party browser plugins and try accessing the website again.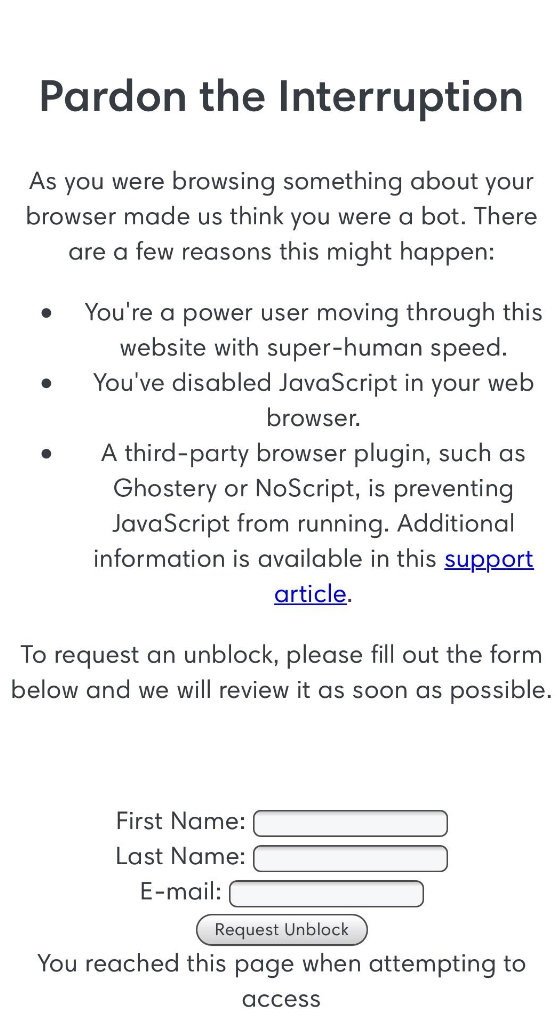 Error:

We apologize. We are unable to complete your request on this device. So that you may continue to show, we recommend using a different device.

OR

"Pardon the Interruption As you were browsing something about your browser made us think you were a bot. There are a few reasons this might happen:

You're a power user moving through this website with super-human speed.

You've disabled JavaScript in your web browser

A third-party browser plugin, such as Ghostery or NoScript is preventing JavaScript from running."
VPN/Proxy is Used: If a VPN or proxy is used into your device, the website may not be able to verify your's location, which could result in access being denied and show you the Pardon the Interruption Error. Try turning off the VPN/proxy and accessing the website directly.
Further, in this guide, we will provide you effective solutions to fix the Ticketmaster: Pardon the Interruption error so that you can access the website or app without any issue.
How to Fix Ticketmaster Pardon the Interruption Error?
Below are the all possible ways you can try to fix the Ticketmaster "Pardon the Interruption Error":
Fix 1: Enable Javascript into Browser
First of all, enable the javascript into your currently used browser and reload the Ticketmaster website again. It would fix the "Pardon the Interruption" error and you would be able to access site without any issue.
Steps to enable Javascript into Browser:
Enable Javascript For Internet Explorer Users
Open Internet Explorer > Select Tools > Internet Options (or the view menu in older versions) > Select the Security Tab > Select Custom Level > under Active Scripting, ensure that "Enable" radio button is selected > Select OK.
Enable Javascript For Chrome Users
Open Chrome > Click Settings > Security and Privacy > Site settings > Content > JavaScript(Sites can use Javascript) > add the Ticketmaster website address or enable for all sites and reload the browser.
Enable Javascript For Firefox Users
To Enable the Javascript into FireFox browser:
Step 1: Open the Firefox web browser, type or copy the "about:config" into search bar, select "Accept the Risk and Continue." You would be having the advance search settings access into Firefox now.
Step 2: Enter "javascript.enabled" into search bar and toggle the "javascript.enabled toggle" as on/off to enable or disable the javascript into browser.
Step 3: Now, Reload the Ticketmaster website again into your Firefox browser and Ticketmaster Pardon the Interruption error would be resolved for you.
Enable Javascript For Safari Users
Open Safari > Navigate to Preferences > Select Security > Check "Enable JavaScript" box and close the browser window and open again.
Once javascript is enabled to currently used browser, you would be able to access the Ticketmaster website account services without any issue.
Fix 2. Check Your Network Connection
Network connection issues are a common cause of the error, so make sure you have a stable internet connection. Check if other websites are working correctly into your device, or try restarting your router.
You can try to switch Wi-Fi to Mobile data or vice-versa just to make ensure that your internet connection is working fine.
Fix 3. Check Ticketmaster Services Status
Sometime there should be some technical issues on Ticketmaster backend , just wait for sometime till issue is fixed by Ticketmaster technical team and services are back.
If Ticketmaster services are down, best way to know is to go to "Downdetector" website and search for Ticketmaster https://downdetector.com/status/ticketmaster/.
Other users would also be reporting on Downdetector if services are down from Ticketmaster itself, or you can go to Twitter and check if other users are also facing the issue when accessing the tickets.
Fix 4. Try to Use Different Browser
If you have tried all the above solutions and the Ticketmaster still showing you the error "Pardon the Interruption Error", you can try using a different browser.
Sometimes, the issue could be specific to your browser, and using a different browser may help you to resolve the issue.
Fix 5. Disable Ad Blocker and Pop-Up Blocker
Also sometimes, Ads blockers and pop-up blockers can interfere with Ticketmaster service access and show you the "Pardon the Interruption Error".
If you have an ad blocker or pop-up blocker enabled into current browser, try disabling it and then try to transfer the tickets again.
Fix 6. Clear Browser Cache and Cookies
Clearing your browser's cache and cookies can help fix the "Pardon the Interruption Error". Go to your browser's settings and find the option to clear cache and cookies.
To clear cache from the Chrome Browser, follow the below steps:
Chrome Browser: Go to Chrome >> Top Right, Click 'More' >> Click on 'Tools' >> Click 'Clear browsing data' Select Time range or 'delete everything' to Clear Data, Check the Boxes "Cookies and other site data" and "Cached images and files" >> Click 'Clear Data'.
Android Phone: Open settings >> Navigate to the application manager or Apps >> Choose Ticketmaster App >> Storage >> Clear Cache or Clear Data >> The Ticketmaster App cache will be cleared when you click 'clear cache.'
iPhone Device: Browse to iPhone settings >> Search and select Ticketmaster App >> Reinstall Ticketmaster App by clicking the 'Offload' button.
Once done, now again try to access the Ticketmaster website or app, it should help you out to resolve the Pardon the Interruption Error.
Fix 7. Disable Third-Party Browser Plugins
Disable any third-party browser plugins that could be interfering with the Ticketmaster website.
Fix 8. Check Ticketmaster Server Status
Check Ticketmaster's social media platforms for any announcements or updates on server status. If the servers are down, all you can do is wait until they restore it.
Fix 9. Disable the VPN Services/Application
If you are using any VPN software/app or extension into browser, disable that and try to access the Ticketmaster again. It would help you out to fix the "Ticketmaster Pardon the Interruption" error.
Disabling the VPN often helps to access any app or service without error because the VPN may be redirecting you from any specific location/region where Ticketmaster services aren't now available or offered.
Fix 10. Disable Any Installed Proxy Server
Some providers of online services, such as AOL and Prodigy, use a device known as a proxy server.
Instead of connecting users to the Internet or the requested site, proxy servers save copies of those sites on their own servers.
Because Ticketmaster's ticket system requires direct access, using a proxy server may prevent you from purchasing tickets or accessing the services properly.
If you are unsure whether you are using a proxy server to access the Internet, contact your Internet service provider.
or you can use a direct Internet connection to access the account on Ticketmaster.com, not a service that uses proxy servers.
Fix 11. Contact Ticketmaster Customer Support
If none of the above fix works, then you may need to contact Ticketmaster customer support for assistance.
Submit the request form on Ticketmaster site by Selecting the topics, event name, menu, event date, First Name, Last Name, Email address, subject, billing address, phone number, Last four digits of purchase card, Order Confirmation Number and attachment if anything you have handy with you to share.
Some More Ticketmaster Articles, You Might be Interested to Read: