Mint Mobile offers an easy activation process for your new Mint number. However, many people face the problem of activation related to code, being stuck in activation or receiving no service after activation.
You receive step-by-step instructions with the purchase of a Mint Mobile sim and have 45 days to activate it.
But the users face problems with activation and cannot continue the process resulting in frustration of not being able to use their phone for calls/texts.
This article will discuss the causes and solutions for the Mint Mobile activation problem, its code and no service after activation.
What Are The Causes Of Mint Mobile Activation Problems?
If you are facing the Mint Mobile activation problems then there are multiple reasons for which are mentioned below.
1. Transfer Process Is Not Complete
When you are switching to Mint Mobile from another carrier then you need to first complete the transfer process.
If you have not completed the transfer process then you will not be able to switch to Mint Mobile causing the activation problem.
2. Mint Mobile Network Coverage Not Available
The Mint Mobile network covers most of the U.S. region but there are some areas where the network is not reachable.
If you are in an unreachable network area then Mint Mobile activation will not work.
3. Incomplete Activation Process
The Mint Mobile activation problem is caused when you don't complete the activation process completely by following the instructions correctly.
If you did follow the instructions correctly then the activation process didn't work and stopped mid-way which can cause the sim not to work.
4. Your Phone Is Locked Or Not Compatible
If your phone is carrier-locked then you will not be able to access the Mint Mobile network. It is important to keep the phone unlocked before you start the activation process.
The next thing to check is your phone compatibility with Mint Mobile. It is compatible with the latest mobile phones and you should check it before switching to or buying the Mint mobile number.
Another issue could be with the Mint Mobile sim card which is not compatible with your phone.
How To Fix Mint Mobile Activation Problems?
To fix the issue of Mint Mobile activation problems you can follow the steps mentioned in this guide.
1. Complete The Transfer Process
The first thing to do before starting your Mint Mobile activation is to complete the transfer process from your previous carrier.
You must keep the service active with your previous carrier till the number transfer process is completed by Mint Mobile.
If you deactivate your service or number then Mint Mobile will not be able to transfer the number.
If you have deactivated your service or number then you can contact your previous carrier to reactivate it so that number can be transferred. Some carriers may charge reactivation fees.
Also, ensure that you provide correct information by double-checking otherwise your previous carrier will not approve your request for a number transfer.
The important information that needs to be correct is your account number and Pin.
After the successful transfer of your number, you can start the activation process with Mint Mobile.
2. Check The Network Coverage Of Mint Mobile
Although the Mint Mobile network is available in most areas of the United States it is still recommended to check your area for its coverage.
If you have an eSIM but the Mint Mobile service is not available in your area then it will not work and not get activated.
You can check the coverage map of Mint Mobile to see if it offers service in your area.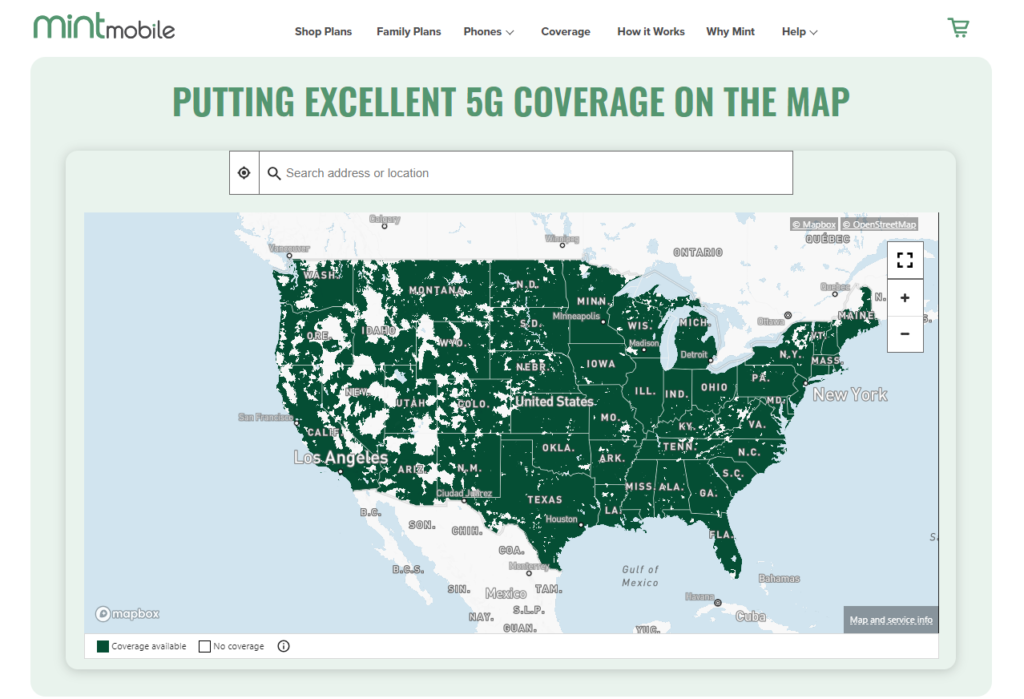 Even if the service is available in your area there are factors beyond your control that can interrupt the service like terrain, building structures and weather conditions.
3. Complete The Activation Process
If you were not able to complete the activation process or you completed activation but the Mint Mobile service did not start then you can repeat the process.
To start the activation process, following are the steps.
Check the back of the Mint Mobile sim card to find the 11-digit activation code. For eSIM you will receive the activation code in your email.
Next, insert the sim card into your phone.
Then download the Mint Mobile app on your phone and tap on the activation link in the app. You can also visit the activation link on your computer.
Now, enter the activation code that was mentioned in the Mint Mobile sim or from the email for eSIM.
There will be two options to keep the old number or you can opt for a new number. Select your choice of preference.
After you select the choice, you will be asked to fill billing information on the next page. Fill in the details.
Then you need to set up APN settings for your phone. For Android phones, follow the steps in the guide by Mint Mobile.
After it is complete, you can restart your phone to complete the activation process.
4. Check If Your Phone Is Compatible and Unlock
Ensure that your phone is the latest model and is compatible with Mint Mobile services.
You can check your phone's compatibility on the Mint Mobile website by entering your phone brand and model or your device IMEI.
Some iPhones are carrier locked when you buy them which means that you cannot switch the carrier unless it is unlocked.
So, switching to Mint Mobile with the locked iPhone will not let the activation process to work.
You can check if your iPhone is locked or not by following the steps mentioned below but it works only on iPhone 14 or later.
Tap on "Settings" on your iPhone.
Go to "General" and then tap on "About".
Scroll down to see "Carrier Lock" and if you see "No SIMS restriction" then it is unlocked. If you don't then it is locked to a specific carrier.
If you have a locked phone then you can get it unlocked by calling your carrier service provider and putting in a request to unlock it.
Only the carrier can help you unlock the phone and it can take a few days to process and complete your request.
5. Check The Mint Mobile Sim Card
If the activation process still has not worked then you can check your sim card for any physical damage and if it is working. You can inspect the sim card tray as well to ensure it is not damaged.
If the sim card and tray are okay then insert the sim in another phone to check if it is working. If the sim works then the issue is with your phone that you should resolve.
6. Update Your Phone
Ensure that you are using the latest version of the software on your phone otherwise, it will not be compatible with the Mint Mobile and the activation will not work.
The updates also resolve any bugs or glitches and improve the performance of your phone.
To update the Operating System of your device:
Go to "Settings" on your device.
Check for Software Update (iOS Users) and System Update (Android Users).
If an update is available then tap on "Download" and "Install".
7. Contact Mint Mobile Help Center
If you have tried all the steps but the Mint Mobile activation is still not working then you can contact Mint Mobile customer care by calling (800) 683-7392 which is available seven days a week from 5.00 am to 7.00 pm. You can also chat with them which is available 24/7.
What Is Mint Mobile Activation Code?
The Mint Mobile activation code is an 11-digit code that you get with the purchase of a new sim card. If you get an eSIM of Mint Mobile then you will receive the activation code in your email.
The activation code is the first and very important step to start your Mint Mobile activation process.
How Long Does It Take For Mint Mobile Activation?
When you follow the activation process correctly then it takes at least 15 minutes for the activation when you use the new number.
If you are switching numbers from another carrier to Mint Mobile then it can take up to 24 hours for the activation.
What To Do If Mint Mobile Is Stuck On Activation?
It takes at least 24 to 48 hours for the Mint Mobile activation to complete after you have applied for activation. So you can wait for some time and let the activation process complete.
If you are stuck on activation in Mint Mobile and have not been able to complete the process then you can try the following fixes:
Reset your network settings to ensure the internet is working when you are doing the activation process.
Switch from Wi-fi to mobile data and vice-versa to get internet and complete the activation process.
If you are doing the activation on your phone and it is stuck then complete the activation process on your computer.
If the problem persists then contact the Mint Mobile help center to resolve your issue.
Mint Mobile No Service After Activation
If there is no service even after Mint Mobile activation then it can happen because your phone is not connected to a cellular network.
To resolve the issue you can try the troubleshooting steps that are mentioned in the guide by Mint Mobile.