RVC is a Retrieval-based Voice Conversion AI model that uses a deep neural network to convert the voice of anyone to a different person.
It is based on the VITS model and converts voices to realistic voice conversions using minimal inputs.
If you are wondering how to use the RVC voice changer then read on. This article will discuss the tutorial of RVC voice changer & models.
How To Use The RVC Voice Changer?
RVC is client software for real-time voice conversions and supports various voice models like RVC, MMVCv13 and MMVCv15. But this tutorial will focus on the RCV voice changer.
To use the RVC voice changer following are the steps:
Download any free real-time voice changer like W Okada.
Download the latest version of executable binaries from Hugging Face.
After the download is complete, unzip the folder and extract the files.
To execute RVC, you need to have HuBERT installed. Download the file and then place hubert_base.pt in the same folder location where you extracted files earlier.
From the extracted files folder look for "start_http.bat" and run it.
If Microsoft Defender prevents the file to execute then you can click on "More info" and then "Run anyway".
If the Windows firewall dialogue box opens, then you can ignore and close it.
A GUI will open after the successful run of the file but sometimes it may get delayed. You can exit the application and restart the application by clicking on the icon and then GUI will appear.
After it opens a new window click "Start".
Next, click on "Select vc" and then "RVC". If you wish you can customize the settings and save it. Then click on "start".
You can click on "edit" in the model section area or select the model. Once it is selected it will load the image of the character.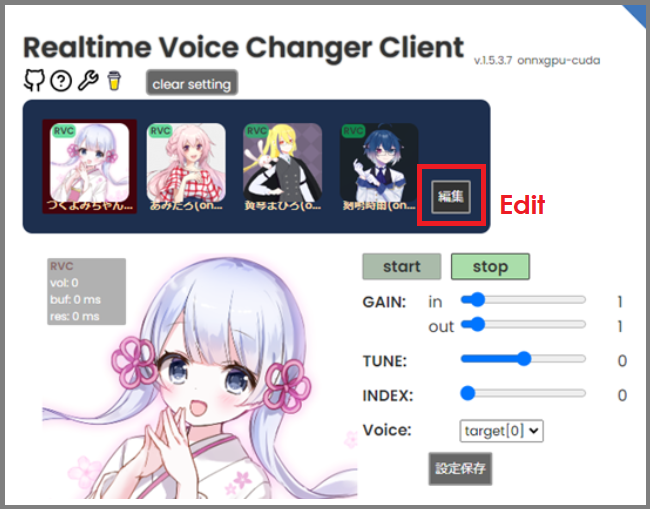 You can then select your microphone for input and speaker for output. But if you are unfamiliar then just select "client" for the Audio section.
Next, press the start button to start voice changing and allow some time for data loading. Speak in the microphone and then you will be able to hear the changed voice from the speaker.
Other Settings To Fine-Tune Voice
You can set the tune value based on the voice you want as output. For a male who wants to use a female voice model then set the "Tune" to 12. For a female who wants to use a male voice model then set the "Tune" to -12.
The settings are just to give an idea of where to set the Tune but you can still adjust it according to your preferences.
You can press start to record and wait for the "Res" value to get low which is a delay in voice conversion. At the start, it is very high but gradually goes to low value.
When it is low approximately 180ms to 280ms then you can start speaking to convert the voice.
RVC Voice Changer Models Download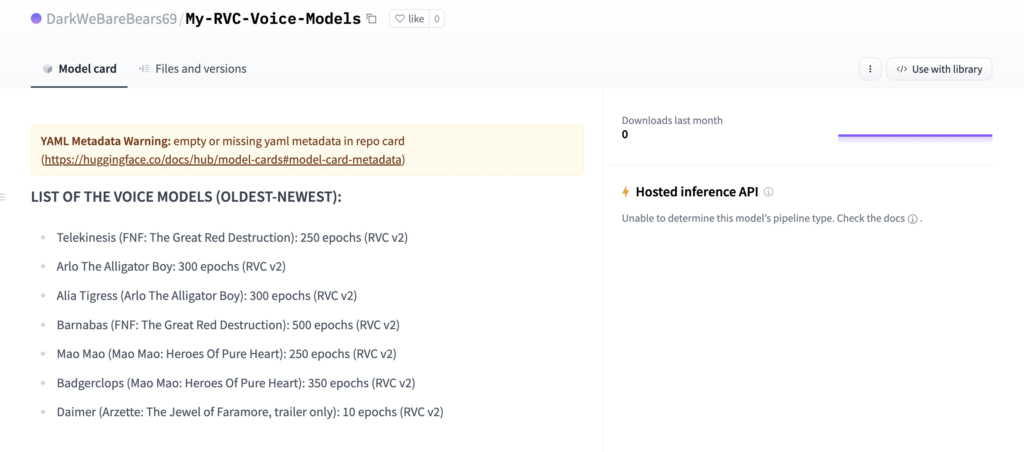 Find below list of models for RVC voice changer from oldest to newest:
Telekinesis (FNF: The Great Red Destruction): 250 epochs (RVC v2)
Arlo The Alligator Boy: 300 epochs (RVC v2)
Alia Tigress (Arlo The Alligator Boy): 300 epochs (RVC v2)
Barnabas (FNF: The Great Red Destruction): 500 epochs (RVC v2)
Mao Mao (Mao Mao: Heroes Of Pure Heart): 250 epochs (RVC v2)
Badgerclops (Mao Mao: Heroes Of Pure Heart): 350 epochs (RVC v2)
Daimer (Arzette: The Jewel of Faramore, trailer only): 10 epochs (RVC v2)