Are you also wondering how you can trade in your old phone to Visible for a new one?
Or are you simply wondering what exactly a Visible trade in is?
If you answered to either of these questions with a "yes," you are not the only one!
Visible is an American mobile virtual network operator by Verizon that offers unlimited text, talk, data, and hotspot, on Verizon's 4G LTE and 5G NR Networks.
The network operator is incredibly popular amongst its users as it offers a more affordable alternative to Verizon.
With its growing popularity, many are now wondering about various things regarding Visible, such as how they can carry out the trade in.
If you are one of these people, read on to find out more about this!
What is Visible Trade In?
Visible has an exciting program for its users both old and new called the Phone Trade In program, where people can trade in their old mobile device for a new one by Visible based on the price or worth of their old mobile device.
Anybody can participate in this trade in, as long as they are planning to purchase a Visible mobile device at the end, since that is what is going to be given to the person.
New customers can trade in their mobile device to Visible depending on the device's eligibility, and get a new Visible phone of their choice in exchange (depending on the availability of the product).
Similarly, current Visible users can also trade in their Visible phones and get new ones depending on the eligibility and price or worth of the current device that they have.
How to Trade In for a New Visible Phone?
To trade in for a new Visible phone, visit Visible's website, get an estimate for your device, select a new phone, send in your old one, and use the credit to buy the new one.
Trading your current mobile device for a new Visible mobile device is quite a straightforward process.
Follow the steps below to trade in for a new Visible phone today!
Step 1: Visit Visible's Website
Visit the Visible website to look for the trade in program on their page.
Step 2: Get an Estimate for Your Mobile Device
Visit the Trade In Program page and answer the questions in the estimate form so that Visible can evaluate your device's price based on its worth.
Once evaluated, you will be told how much your phone is worth if it is traded in.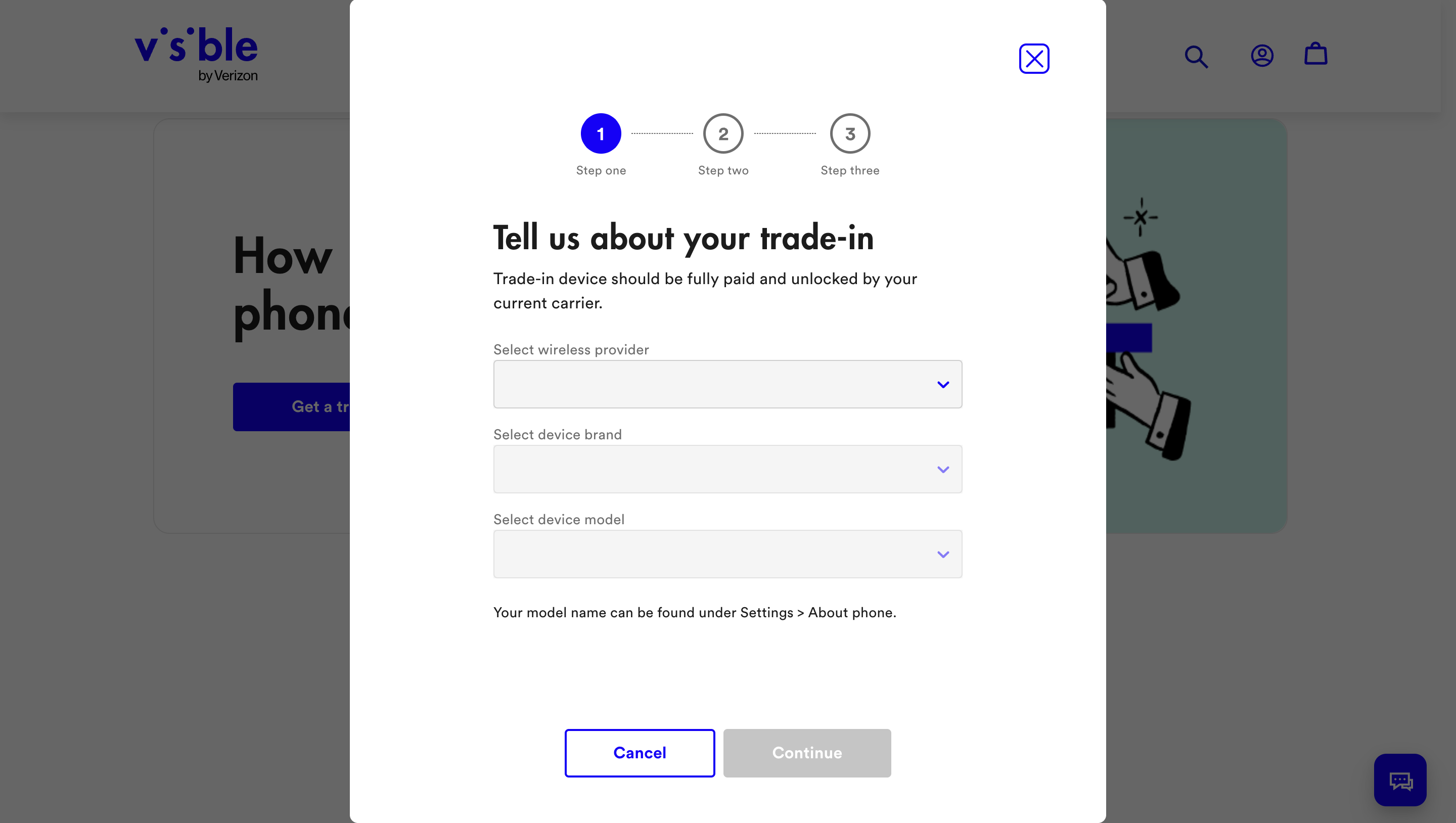 Step 3: Click on Shop & Redeem
This will take you to Visible's online store which shows all the mobile devices that they are selling and offering in exchange for your current mobile device.
Browse through their catalogue and select the mobile device that you like the most.
Keep in mind the price that Visible gave to you as an estimate, since you will need to pay the extra amount that is not covered by the trade in.
Note that the mobile device that you selected must be purchased through Visible's official site or store for it to be eligible and applicable for the trade in, and it needs to be purchased within 24 hours of receiving the estimate.
If you are a new member, you will have to also sign up for a Visible phone plan before you complete your purchase.
Step 4: Send In Your Old Phone
Print out the return label that Visible provides for you to ship your mobile device to them.
Make sure your phone is fully prepared for return by giving it a factory reset and properly cleaning it physically before sending it in for a return.
Make sure that you dispatch your mobile device for the trade in within 21 days of getting the return label so that it stays eligible for the trade in.
Once the mobile device is received by Visible, they will confirm the condition of your phone and make sure it matches the estimation report that you filled out.
Step 5: Use the Credit to Get Your New Phone
Once your mobile device has been successfully received and accepted by Visible, you will receive the amount that your phone is worth as credit on your Visible account.
Getting the credit means that you can only use it to buy a new Visible phone, and nothing else.
Use the credit you received to buy the new Visible phone that you had selected earlier.