How to Fix Poe AI Giving Slow Response and Sometimes No Response
Are you also wondering why Poe AI is being so slow and taking so much time to give you a response?
If so, you have come to the right place!
Poe AI is an online platform that was developed by Quora to provide people with access to a wide range of highly sophisticated natural language AI chatbots to answer their questions and engage in conversations.
However, with the rising popularity of this platform, many are now wondering about its functioning and thus have questions.
If you are one of these people, read on to find out more!
Why is Poe AI Giving a Slow Response and Sometimes No Response?
You may run into this issue where Poe AI takes a long time to respond to your messages and prompts, and sometimes does not even respond at all!
This may happen in the middle of a conversation with a chatbot on the platform.
Here are some potential reasons for it:
1. Poe AI Server Is Overloaded
At times, the many number of users interacting with Poe AI can overload the platform's servers, leading to performance issues such as slow or non-responsive chatbots.
Overloaded servers often cannot process the high volume of requests they receive promptly, resulting in delayed or missed responses.
2. You Have Reached Your Daily Message Limit on Poe AI
It is possible that you are getting the message on Poe AI because you have hit the daily message limit for the bot, and can no longer send or receive messages.
Since they have also imposed a daily message limit for non-exclusive bots, you may also have exhausted the daily message limit for those bots as well.
Even if you have a paid subscription to Poe, exclusive bots like Claude and GPT-4 have a daily message limit, though it is much higher than the free version.
Once the daily message limit is reached, Poe AI's responses will become slower, and in some cases even stop completely.
This daily message limit is reset on Poe AI every 24 hours.
3. New Features Are Being Added to Poe AI
Recently Poe AI added a new feature on their platform that allows the bots to recognize images.
This new addition may have interfered with some pre-established features and functions, or it may have produced some bugs that are interfering with the platform's processes.
As such, this may be the reason why you are facing the problem with Poe AI.
4. Problems with Network Connection
There may be issues with your network connection to the internet which has affected Poe's performance.
This is because Poe requires a good-quality connection to the internet to be able to work properly.
Without a fast internet connection, Poe's performance on your device will be severely decreased, even to the extent that it takes a long time to respond to your messages and prompts, or even simply stop responding due to a request timeout.
This may be the cause of the issue you are currently facing.
5. Technical Issues with Poe AI
There may be some temporary internal technical issues with Poe and its servers, such as bugs, glitches, or unknown errors that are affecting the platform's processes.
On the other hand, some features may not be functioning as developers patch the issues on the server.
As such, this may be interfering with the process of Poe not working properly for you.
How to Fix Poe AI Giving Slow Response and Sometimes No Response
1. Wait for Server Traffic to Subside
The most viable solution to this issue is to wait for server traffic to decrease. Server overloads typically occur during peak usage times, so trying to interact with the Poe AI during off-peak hours could potentially improve response times.
In the meantime, you may also report the issue to the Poe AI team. Providing feedback will help them understand the frequency and severity of server overloads, and potentially prompt them to invest in infrastructure upgrades.
2. Check Your Daily Message Limit on Poe AI
Regardless of whether you were using the paid or free version of Poe AI, you can check whether you have used up your daily messages.
To check your daily message activity, follow the steps below:
Step 1: Visit the Poe website and log in to your account if you have not done so.
Step 2: Scroll down and click on the Settings option (seen as a gear icon) from the left side Menu column.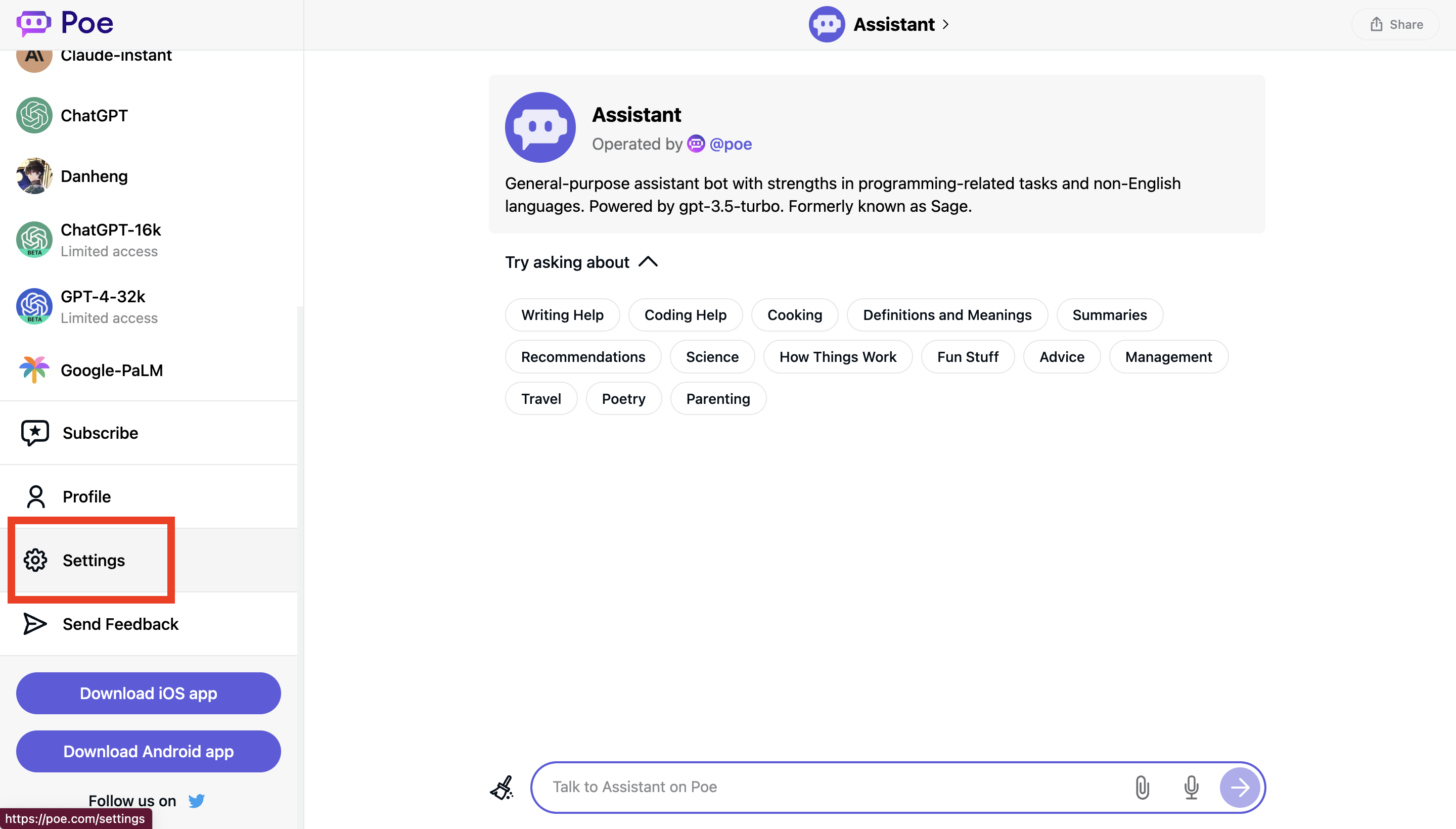 Step 3: Check your daily message usage for different types of bots at the top of the Settings page.
If you do not have any messages left, you will not be able to use them further until the next day, unless you purchase Poe's subscription plan.
This is because the daily message limit is reset every 24 hours to allow users to continue using Poe AI.
To purchase Poe's subscription plan, simply click on the Subscribe to Poe option at the top of the page, either on your app or on your browser.
3. Check Your Network Connection
Step 1: Go to speedtest.net.
Step 2: Click on the "GO" button on your screen to begin the speed test.
Step 3: Wait for the site to give you a report regarding your internet connection's speed.
Step 4: Once the report is ready, you can view it and check your ping rate, which is given in yellow.
To make sure that Poe runs smoothly on your device, you will need a ping rate of 100 ms or lower.
Remember: the lower the ping, the better the quality.
If you have a poor internet connection, you can try to reset your router to refresh your network connection.
To reset your router, follow the steps below:
Step 1: Look for the reset button on your router.
Step 2: Long press the reset button for a few seconds.
Step 3: Release the reset button and wait for the router to light back up again.
Step 4: Once the lights are back, reconnect your device to your router again.
Your connection will be reset and the network will be faster.
If this still does not work, you can try using alternative networks, such as your mobile data or hotspot connection.
4. Check the Poe AI Server Status
If none of the previous methods have been helping, it is best if you check the platform's server status to see if the error is due to an internal issue.
You can check Poe AI's server status on Poe AI Server Status and view the report at the very top of the page.
You can also report the problem you are facing on Poe to this page by clicking on the Report an issue button under the Reported issues section on the page.
If the server is reported to not function properly, you will simply have to wait and try again later to see if the issue has resolved itself.
Often such problems resolve themselves easily due to being a temporary error, or the developers may patch the issue as soon as they receive news of it.
As such, there is nothing much that you can do on your own in such a scenario, due to which it is best to simply wait it out.