Are you also wondering why Poe is not working or responding to your prompts and messages?
If so, you may not be the only person facing this issue.
Poe is an AI chatbot app developed by Quora to help users access a wide range of natural language AI chatbots on one platform to answer any query or question that they might have.
With the rising popularity of AI assistance, many users are now asking questions about the usage of platforms such as Poe.
If you are one of these people, read on to find out more about why Poe is not responding to you or simply not working, and how you can fix this issue.

Why is Poe AI Not Working or Not Responding
Poe may randomly stop working or responding to the user's prompts and messages without warning while in the middle of using it.
Here are a few possible reasons for this happening:
1. You Have Reached the Daily Message Limit on Poe
While Poe offers access to advanced AI chatbot assistants like Claude, users who are not subscribed to Poe's paid plan are only limited to a certain number of messages to these limited access chatbots on Poe's platform.
Once the user has reached this daily message limit for the limited access bots, they will not be able to send or receive any further messages, which may be why the bots are not responding or working on Poe.
2. Problems with Your Network Connection
There may be issues with your network connection to the internet which has affected Poe's performance.
This is because Poe requires a good-quality connection to the internet to be able to work properly.
Without a fast internet connection, Poe's performance on your device will be severely decreased, even to the extent that it takes a long time to respond to your messages and prompts, or even simply stop responding due to a request timeout.
This may be the cause of the issue you are currently facing.
3. Your Poe App is Not Up to Date
It is important to keep your Poe app up to date to make sure that you have access to Poe's latest features as released by the developers.
Developers often also release minor app updates to get rid of any internal issues that the users may be facing with their Poe app.
As such, if you do not have the latest version of the Poe app on your device, there may be some issues with the app's functionality which may have led to it nor responding or not working for you.
4. Technical Issues with Poe
There may be some temporary internal technical issues with Poe and its servers, such as bugs, glitches, or unknown errors that are affecting the platform's processes.
As such, this may be interfering with the process of Poe not working properly for you.
How to Fix Poe AI Not Working or Not Responding
1. Check Your Daily Message Usage on Poe
If you are a free Poe user, you may want to check in on your daily message limit.
To check your daily message limit on the Poe browser website, follow the steps given below:
Step 1: Visit the Poe website and log in to your account.
Step 2: Click on the Settings option from the left side Menu column.
Step 3: Check your daily message usage at the top of the Settings page.
To check your daily message limit on the Poe app, follow the steps given below:
Step 1: Open the Poe app on your device, and log in to your account if you have not yet done so.
Step 2: Click on the three horizontal lines in the top left corner of the screen to open the Menu column and select the Settings option.
Step 3: Scroll to view your daily message usage on Poe.
If you do not have any messages left for limited access bots like Claude, you will not be able to use them further unless you purchase Poe's subscription plan.
To purchase Poe's subscription plan, simply click on the Subscribe to Poe option at the top of the page, either on your app or on your browser.
2. Check Your Network Connection
If you are already subscribed to Poe or have not yet reached your daily message limit, it is best to check if your internet connection is strong.
You can do this by carrying out an internet speed test for your network by following the steps below:
Step 1: Go to speedtest.net.
Step 2: Click on the "GO" button on your screen to begin the speed test.
Step 3: Wait for the site to give you a report regarding your internet connection's speed.
Step 4: Once the report is ready, you can view it and check your ping rate, which is given in yellow.
To make sure that Poe runs smoothly on your device, you will need a ping rate of 100 ms or lower.
Remember: the lower the ping, the better the quality.
If you have a poor internet connection, you can try to reset your router to refresh your network connection.
To reset your router, follow the steps below:
Step 1: Look for the reset button on your router.
Step 2: Long press the reset button for a few seconds.
Step 3: Release the reset button and wait for the router to light back up again.
Step 4: Once the lights are back, reconnect your device to your router again.
Your connection will be reset and the network will be faster.
If this still does not work, you can try using alternative networks, such as your mobile data or hotspot connection.
3. Update Your Poe App
If there are no issues with your internet connection and daily usage limit, then the issue might lie with your app being outdated.
To update your Poe app, simply search for Poe in your App Store (for iOS devices) or Google Play Store (for Android devices) and click on the Update button next to the app icon.
Once your app is updated, you will be able to take advantage of Poe's latest features and your issue might get fixed.
4. Refresh the Page
You can also try to simply refresh the page to see if the problem goes away on its own.
Often, refreshing your browser page will get rid of any temporary bugs that are interfering with Poe's functionality on your browser.
As such, a simple reload might just do the trick.
5. Report a Problem
If none of the previous methods helped in resolving the issue, it is best to report the problem to Poe itself.
You can directly send feedback to the team by simply clicking on the Send Feedback button from the Menu column on both your browser page and the Poe app.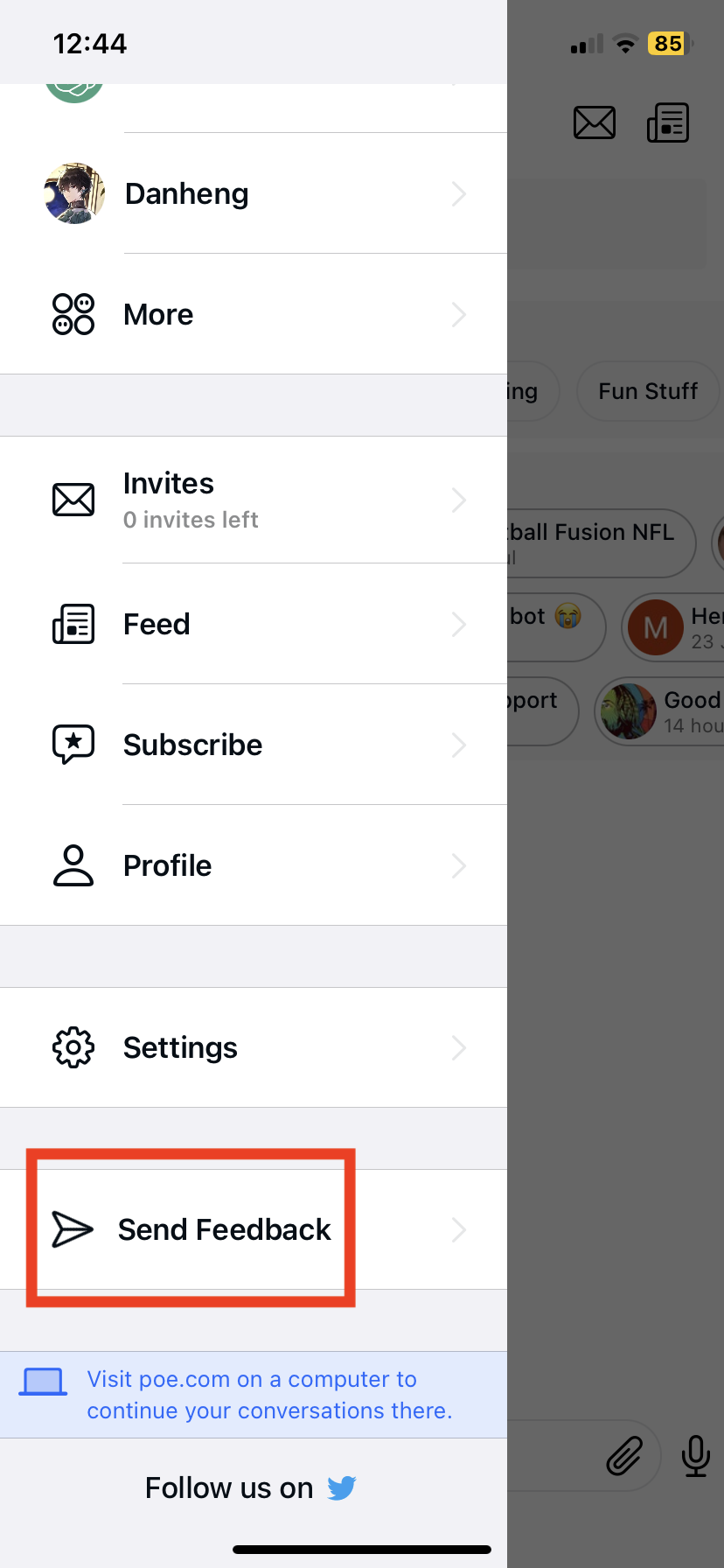 You can also reach out to them via email by sending an email to feedback@poe.com.
5. Check Poe AI Server Status
If the issues persist after trying all the steps above, it might be due to problems with Poe's servers.
You can check the current status of Poe's servers at Poe AI Server Status.
This site will inform you if there are any ongoing issues with Poe's servers that could be causing the chatbot to malfunction.