Are you looking for a reliable eSIM provider for your upcoming international travel?
With so many options available, it can be overwhelming to choose the right one. In this blog post, we will compare two popular eSIM providers, Airalo and Flexiroam.
In this blog post, we'll examine their features, prices, and coverage to help you decide which one is the best fit for your travel needs.
Whether you're a frequent traveller or planning your first trip abroad, read on to find out which eSIM provider is right for you.
Airalo vs Flexiroam: A Comparison
1. Coverage Comparison
Airalo offers eSIMs for over 100 countries and supports major carriers such as AT&T, T-Mobile, and Vodafone.
Their eSIMs are compatible with most smartphones and can be activated instantly through their app. Airalo also offers flexible data plans that range from 1GB to 30GB, with prices starting at $5.
Flexiroam, on the other hand, offers eSIMs for over 150 countries and supports over 580 carriers.
Their eSIMs also work on most smartphones and can be activated through their app.
| Provider | Countries Covered | Price per GB | Unlimited Data Option | Region |
| --- | --- | --- | --- | --- |
| Airalo | 200+ | Varies by country, generally less expensive than Flexiroam | No | Africa, Asia, Caribbean Island, North America, Middles east and North Africa, Europe, and Latin America |
| Flexiroam | 200+ | It varies by region, generally more expensive than Airalo | Yes | Africa, Asia, North America, Middle East, South America, Europe, and Australia |
To check country availability
Airalo:
Go to the Airalo Website and Click on "Regional eSIM", "Local eSIM" and "Global eSIM" options to view the country.
Flexiroam:
Go to the Flexiroam website and click on "Shop".
Select the Country from the drop-down list box to select the plan.
When comparing region availability, Flexiroam is available for the whole of Africa and Australia and not available for the Caribbean islands.
Airalo is not available for Australia and is available only for North Africa.
When it comes to data plans, both providers offer eSIM plans that allow you to stay connected while travelling without needing to switch out SIM cards.
Both providers cover similar countries and regions. So you can go with a data plan to choose the best provider according to your travel needs.
The key difference is that Airalo offers a "pay-as-you-go" option that allows you to pay only for the data you use, while Flexiroam does not offer this option.
However, Flexiroam offers a "data sharing" feature that allows you to share your data plan with up to 10 devices.
However, If you want to travel to Australia and looking for a regional plan, Flexiroam will be the option.
2. Price Comparison
Both Airalo and Flexiroam offer flexible plans that can be tailored to your specific needs.
Flexiroam offers one-off data plans that are perfect for travellers who only need data for a short period of time.
They also offer recurring subscriptions for regular users. Airalo offers pay-as-you-go eSIMs that can be easily topped up with additional data whenever you need it.
This makes it a great option for travellers who want to avoid the hassle of signing up for a long-term contract.
However, the data plan will differ according to country.
You can check the pricing plan for Airalo and Flexiroam here.
Let's take Japan and India,
Airalo price for Japan,
Flexiroam Price Plan for Japan,
Here is the price comparison,
1GB
2GB
3GB
5GB
10GB
20GB
24GB
3 Days
15 Days
30 Days
30 Days
30 Days
30 Days
12 Months/2GB per month
Airalo
$4.50
$6.50
$8.50
$11.5
$17
$26
N/A
Flexiroam (500MB to 50 GB)
$12.5, $12.50 and $13
3,8 and 15 Days
N/A
8 days
$32
24 days $51.5
24 days
$89
N/A
N/A
Comparing the price plan for Japan, Flexiroam is way more expensive than Airalo.
Flexiroam also provides combo packs for some countries, comparatively which has similar prices as Flexiroam provides for individual countries.
Overall Airalo wins the game in terms of price nevertheless Flexiroam provides more flexible options.
3. Validity Comparison
In terms of validity features, Flexiroam and Airalo differ in the duration of their eSIM plans.
Flexiroam offers shorter-term plans that are valid for a specific duration, ranging from 1 day to 24 days for local eSIM and 360 days for Global eSIM (Annual plan, 2GB per day).
Flexiroam provides a very low amount of data ranging from 500MB to 10 GB for long duration.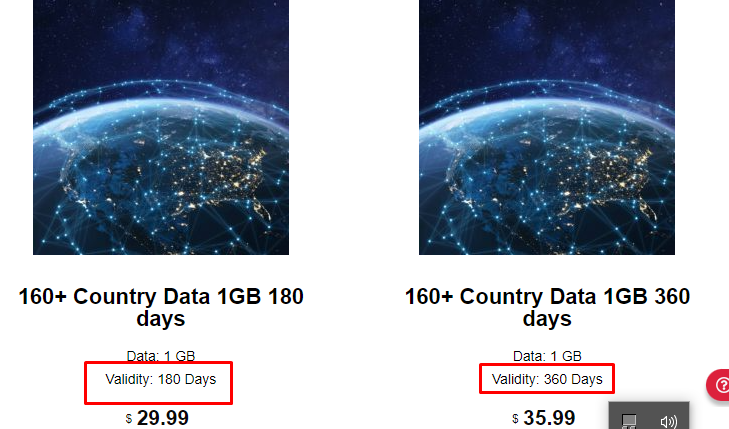 Airalo, on the other hand, offers longer-term plans that are valid for a longer period, ranging from 10 days to 30 days, depending on the plan purchased.
Users can choose a plan that fits their travel duration and usage needs.
Therefore, the choice between Flexiroam and Airalo for validity features depends on the user's specific travel requirements.
4. Voice Feature Comparison
Airalo offers a voice facility for customers to make and receive phone calls in global eSIM plans, which can be a convenient feature for those who need to stay connected with family, friends, or business contacts.
Keep in mind that the Price varies for "Data with call and Data without call "(Depending on the Plan).
Flexiroam is a data-only service and does not support traditional voice calls or SMS.
However, users can make free voice calls or send messages by using popular applications such as WhatsApp, Facetime, Messenger, and Skype.
Therefore, excluding the global plan, in terms of voice features, there is no significant difference between Flexiroam and Airalo.
5. Global eSIM Plan Comparison
Flexiroam and Airalo offer global eSIM plans with coverage in multiple countries.
Flexiroam provides eSIM data plans in over 160 countries and territories, while Airalo offers eSIM data plans in more than 130 countries.
Flexiroam's global plans come with a very small amount of data (500 MB to 10GB) for a specific duration, ranging from 1 day to 360 days, depending on the plan purchased.
Airalo's global plans also come with a set amount of data for a specific duration, ranging from 10 days to 30 days, depending on the plan purchased.
Airalo's plans are generally more affordable than Flexiroam's plans and it has more customized options to go with.
Therefore, users should consider their budget and the number of countries they plan to visit when choosing between Flexiroam and Airalo for a global eSIM plan.